New Restrictions for Licensed Premises - updated October 16
From: Tracey Ewasko <This email address is being protected from spambots. You need JavaScript enabled to view it.;
Date: October 16, 2020 at 1:30:14 PM CDT
Subject: Covid Update
Message from CurlManitoba and Winnipeg Curling Clubs Association (WCCA)
Please Note: Public Health has updated their interpretation of the COVID-19 Prevention Orders.
It was originally believed that curlers could continue to curl past 11pm as long as the bar/restaurant was closed and all alcohol was removed.
This morning, Public Health informed CurlManitoba that the current legal interpretation of the COVID-19 Capital Region Prevention Order is that Prevention Order 5 Licensed Premise overrules Prevention Order 10.
CurlManitoba received the following communication from Manitoba Emergency Coodination Centre:
For clarity, licensed facilities can continue to operate and allow members of the public to engage in activities, such as curling. However, facilities must ensure that those in any bar or lounge area are assigned to a table and must remain seated unless they are travelling to or from washrooms, engaged in playing a video game or other similar activity in the licensed premises, briefly interacting with staff at the licensed premises, or entering or leaving the licensed premises. Additionally, there can be no liquor service between 10:00 p.m. and 9:00 a.m. and the operator of the licensed facility must ensure that all members of the public vacate by 11:00 p.m., including those engaged in recreational activities, such as curling. Order 5 is not specific to restaurants or bars but applies to the licensed premises.

Thank you for bringing your concerns to our attention; we appreciate hearing your feedback and have shared it with public health for consideration. We acknowledge that the measures in place are having an impact on businesses and organizations in Manitoba. This is not an ideal situation, however, Manitoba's top priority is the health and safety of its citizens in the face of this unprecedented pandemic. As this is an evolving situation, we encourage you to stay up to date by visiting: https://manitoba.ca/covid19/index.html.
CurlManitoba will continue to advocate to have the sport of curling continue past 11:00pm however, at this time, it is important to follow the current interpretation from the Provincial legal team - which is that all curlers must be out of the licensed establishment by 11:00pm. Please consider altering draw times or shortening games to be done by 10:50pm to ensure all curlers have 10 minutes to change their shoes and leave the premise. Please communicate this to all members.
We understand the frustration with the constant changes this season and appreciate all the work clubs are doing to be flexible and support a safe return to curling. I'm sure your curlers also appreciate all your staff and volunteer efforts to make this sport as safe as possible.
Craig Baker
Executive Director
CurlManitoba
Phone: 204-925-5725
Level Orange restrictions applicable to licensed premises in Winnipeg and area, made effective on October 7 will affect AMCC operations as follows:
Liquor and beer sales both in the lounge and on the ice will end at 10:00 pm sharp.

Bar staff will make an effort to poll players on the ice for final drink orders between 9:30 and 10:00 pm.

The facility must be vacated by all customers (this means -

anyone

who is not a paid staff member) prior to 11:00 pm.


Anybody playing a late draw must take his/her belongings to the main floor at the start of his/her game.
Game play must end by 10:50 pm, so that all curlers may change shoes and exit the building by 11:00 pm.
Further updates for leagues curling a late draw will be provided after September 17.
Effective October 19 - all tables in the lounge and on the main floor will be restricted to no more than 5 occupants (most were before solely due to spacing requirements, but not it is mandated by the Province).
Discussions between the Return to Play Committee and conveners of leagues with late draws to increase availability of bar service to those players in late games are ongoing - but at this time there is no change to game scheduling.
These restrictions are expected to be in place until at least November 4 - but may be extended. Updated signage and communications will be issued when the restrictions are removed.
Reminder: at all times during the season, any curler who is in the building at a time outside of one of his/her scheduled full-time league games (i.e. visiting the lounge as a non-curling guest, sparing for another team in a league other than his/her regular full-time league) MUST sign-in at the bar upon entering the facility.
Level Orange Restrictions for Winnipeg beginning September 28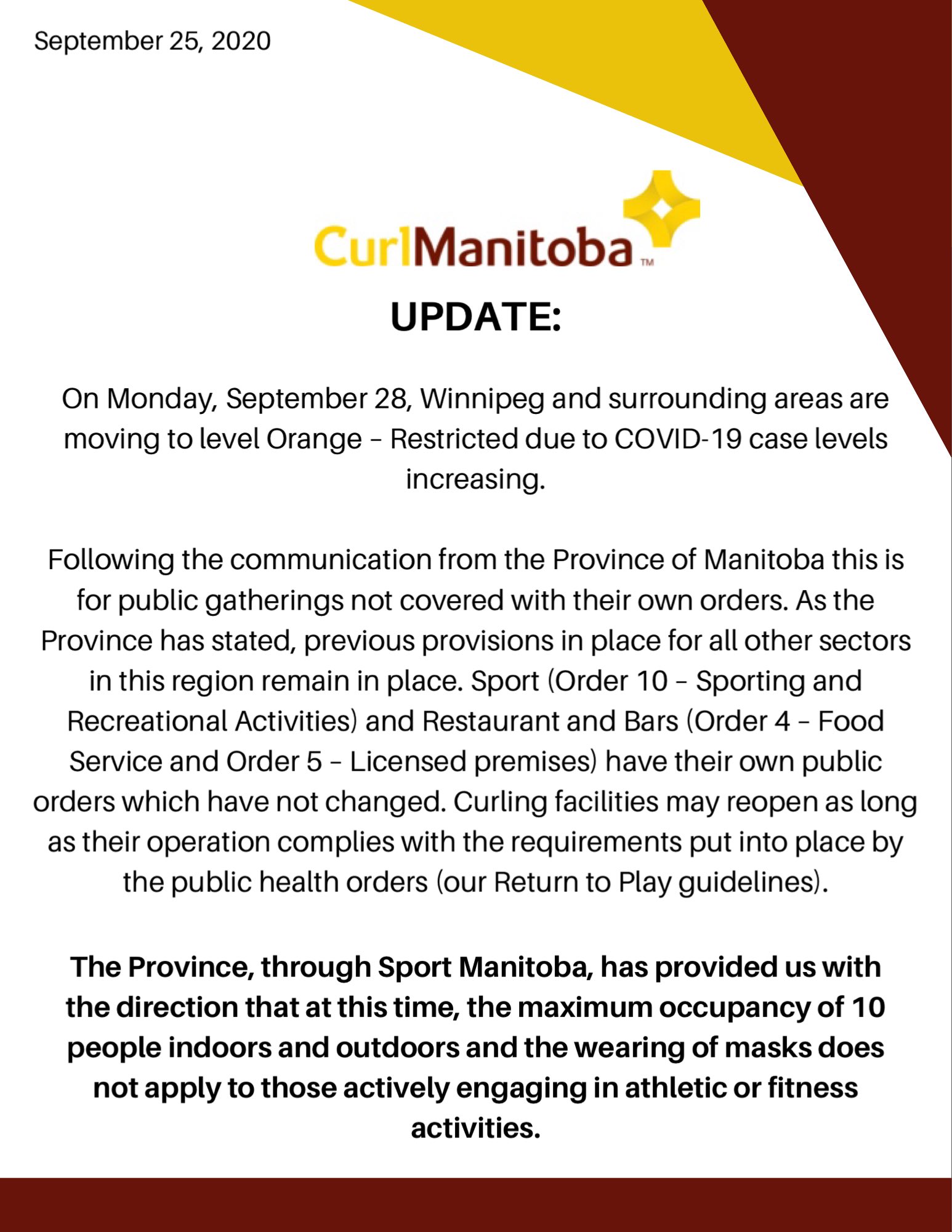 Level Orange summary: https://www.cbc.ca/news/canada/manitoba/manitoba-covid-19-update-1.5738755
Mask Rules Updated September 28
During past week the AMCC Board of Directors and many members of the club have had the opportunity to put into practice the Clubs Return to Play Guidelines. Based on this opportunity to play on the ice, new supporting guidance and information from the WHO, the board has revised the "Mandatory Mask" rule while participating in the Ice Shed.
Masks during play will now be optional but is still highly recommended. If you choose to wear a mask while playing, it is recommended that you change them regularly when they get damp. Mask use also MUST NOT be your primary control to prevent the spread of COVID-19. We respectfully ask that you continue to follow all public health directives and the Club's Return to Play Guidelines (http://keepcurling.curlamcc.com) - which will be updated to reflect the rule change within the next week.
It is critical that we all do our part to prevent the spread of COVID-19:
Continue to stay home if you are feeling sick, or have been in contact with any confirmed or suspected case of COVID-19.
Maintain 6' / 2m physical distancing at all times.
Practice good hand hygiene.
Wear a face mask at all times when entering our facility, taking it off ONLY a) when when seated in the café or lounge or b) participating in our ice shed according to Curl Canada's rules pertaining to play.
Thank you for doing your part to ensure we all continue to have a safe and fun curling season.